This weekend we had a baby shower for my cousin Ashley! Everyone brought their talents together and it was a success! Unfortunatelty, I didn't bring my camera :( But I did snag a few pictures with my phone. My aunt wanted the baby shower to have a princess theme so I made the diaper cake look like a castle. My mom put together a crepe station, yum! My aunt handled the decorations and everything looked so glamorous! My cousin Stephanie made the cutest banner and thought of some fun games to play. Someone from their ward made the most perfect cake pops I've ever seen!
The picture above was of a little tree docoration my aunt made from a branch. It was adorable! You can't really tell in the picture though :( And my daddy made the pedestal it's sitting on.
For my gift to Ashley I put together a hospital survival kit I found on pinterest. You can find the printables and list of suggested items to include
here
. I used her suggestions and looked up some other things someone might want in the hospital, below or the items I included.
1. A healthy snack - trail mix granola bars
2. Chapstick - word on the streets is your lips will get very chapped because you can't drink water when you're in labor
3. Facial cleansing wipes - to help you feel clean when you've been sweating a lot and can't get out of bed
4. M&M's - It's chocolate. Enough said.
5. Hair ties and headbands - to keep that hair out of your face
6. Deodorant - see number 3
7. Orbit - Dirty mouth? Clean it up with Orbit! Who knows what kind of words you'll be screaming while you're in labor haha jk
8. Wisps - disposable toothbrushes, it's always nice to have the just brushed clean feeling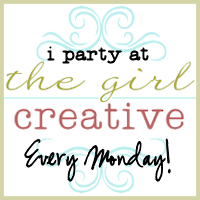 Linked to:
Making the World Cuter
,
Market Yourself Monday
,
Motivate Me Monday
,
Craft-O-Maniac Monday
,
Made By You Monday